Are you located in the San Diego area and have a water damage or flood damage emergency and need help fast?
Call Boyd's Flood and Repair Services Now!
We're your local experts in flood damage and water restoration, clean up and repairs.
Every second counts with water restoration – your family, home or business may be in severe danger.
Boyd's Flood and Repair Services provides immediate 24-hour emergency disaster clean up, FREE estimates and 100% service guarantee.
Emergency 24/7 – Immediate response teams.
Call Boyd's Flood and Repair Services – we'll come out and solve your problem now!
Residential and commercial.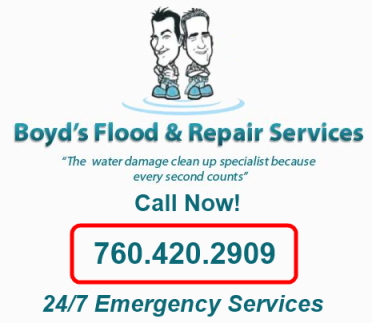 When you have an emergency, Boyd's restoration professionals are on site right away – we pride ourselves on our immediate response time and 100% service guarantee.
Smart property owners and property managers like you know they can trust Boyd's trained and certified professionals.
Water Restoration San Diego Water Damage Restoration
We rescue and restore lives and property with our cutting edge water restoration technology, in the shortest possible time and at a much lower cost than our competitors!
We offer a comprehensive water removal service, including carpet cleaning and restoration as well as mold and mildew removal.
A prompt response using Boyd's property restoration can save 15-40% on water damage claim costs!
Don't Wait – Call Boyd's Flood and Repair Services Now!
24 Hours / 7 Days a Week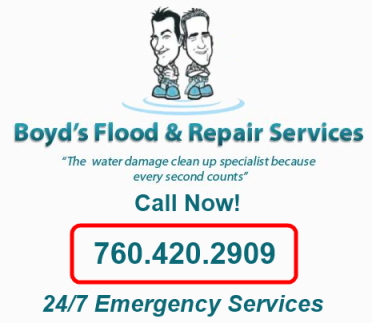 When every minute counts and customer satisfaction is critical, you want experienced people you can rely on.
Boyd's Flood and Repair Services will come out immediately get the job done right and make the water cleanup process as easy as possible for you.
We work with you directly and/or we can work through your insurance carrier, whatever is easiest for you.
What cities around San Diego, CA do we service?
We're proud to be San Diego's premier flood and repair service and home remodeling contractor servicing the following cities in San Diego: San Diego, Alpine, Bonita, Bonsall, Borrego Springs, Bostonia, Boulevard, Camp Pendleton, Campo, Cardiff, Cardiff by the Sea, Carlsbad, Chula Vista, Coronado, Crest, Del Mar, Descanso, Dulzura, El Cajon, Encinitas, Escondido, Fallbrook, Guatay, Imperial Beach, Jacumba, Jamul, Julian, La Jolla, La Mesa, Lakeside, Lemon Grove, Leucadia, Lincoln Acres, Mount Laguna, National City, Nestor, Ocean Beach, San Diego, Olivenhain, Pacific Beach, Pala, Palomar Mountain, Paradise Hills, Pauma Valley, Pine Valley, Potrero, Poway, Rainbow, Ramona, Ranchita, Escondido, Rancho Santa FE, San Diego State University, San Luis Rey, San Marcos, San Ysidro, Santa Ysabel, Santee, Solana Beach, Spring Valley, Tecate, Valley Center, Vista and Warner Springs.
What local San Diego, CA zip codes do we cover?
We service the following zip codes throughout San Diego County, California: 92101, 92102, 92103, 92104, 92105, 92106, 92107, 92108, 92109, 92110, 92111, 92112, 92113, 92114, 92115, 92116, 92117, 92119, 92120, 92121, 92122, 92123, 92124, 92126, 92127, 92128, 92129, 92130, 92131, 92132, 92133, 92134, 92135, 92136, 92137, 92138, 92139, 92140, 92142, 92145, 92147, 92149, 92150, 92152, 92153, 92154, 92155, 92158, 92159, 92160, 92161, 92162, 92163, 92164, 92165, 92166, 92167, 92168, 92169, 92170, 92171, 92172, 92174, 92175, 92176, 92177, 92179, 92182, 92184, 92186, 92187, 92190, 92191, 92192, 92193, 92194, 92195, 92196, 92197, 92198 and 92199.
Water Restoration San Diego in the News:
Water Damage Restoration Done Right | Michael and Son Blog
www.michaelandson.com2/21/14
Flooding and the subsequent water damage can destroy furniture, appliances, floors and even personal effects. Damage to furniture and appliances can be costly to repair and certain personal effects can never be replaced; …
Cleaning Tips – How to Repair Water Damage and Handle Water …
www.greeningokc.com5/13/14
House enhancement requires everything from a fundamental paint task or maybe a complete remodel. Deal with the most evident things in your home enhancements. Potential purchasers might choose exactly what they can …
Tips and advice on water damage restoration | ACE
www.augustacorporateevents.com5/6/14
To decrease the length of time it requires to recover from a flood damage event, guarantee you employ a restoration business which can help you with your.
Water Restoration San Diego on Youtube:
DRYING WET WALLS | Water Damage Repair-AAA Flood Drying- Tyngsboro Groton Littleton Pepperell MA NH
Drying wet ceiling, walls and carpet from water damage without demolition. Specialized drying using heat, very dry air and a lot of air movement allow in pla…
How To Dry a Flooded Wet Carpet, Water Damage, Flooded Carpet Drying
Drying a flooded wet carpet after a basement flood and water damage. We removed the water from this soaked carpet using a water extration machine. Then the d…
Injectidry Systems Floor Drying System
Learn how to dry hardwood flooring with Injectidry Systems Vac-It Panels.
Water Restoration San Diego on Flickr: